This is a breakup short story based on a mixture of fiction and reality. 
"Dear Ishaan, 
I hope you are doing well. Safe and sound. I hope you are happy and content. I hope you contain no memories of me. And lastly I hope that I never see you again in life."
As I looked towards Ishaan, he was fixing the bed. He did not look at me, as always, he never did. His eyes were always fixated on the parts that he needed and my eyes were not included in his needs. As he fixed the bed, I fixed my clothes. Buttoning my shirt slowly.
 " Sorry but can you be a bit quicker?" he uttered with a hasty feeling. I nodded with a slight awkward smile as my fingers quickened. No words were spoken after this. 
As I closed the door behind me, I thought of how foolish I am to think of finding love in a place of brothel?! Well, I found love but it was just a one way road. 
As the doors were shut now, I thought to myself if Ishaan really likes calling me by my name? If he really likes to brush my hair locks behind my ear with his fingers? If he really ever felt something for me except climax?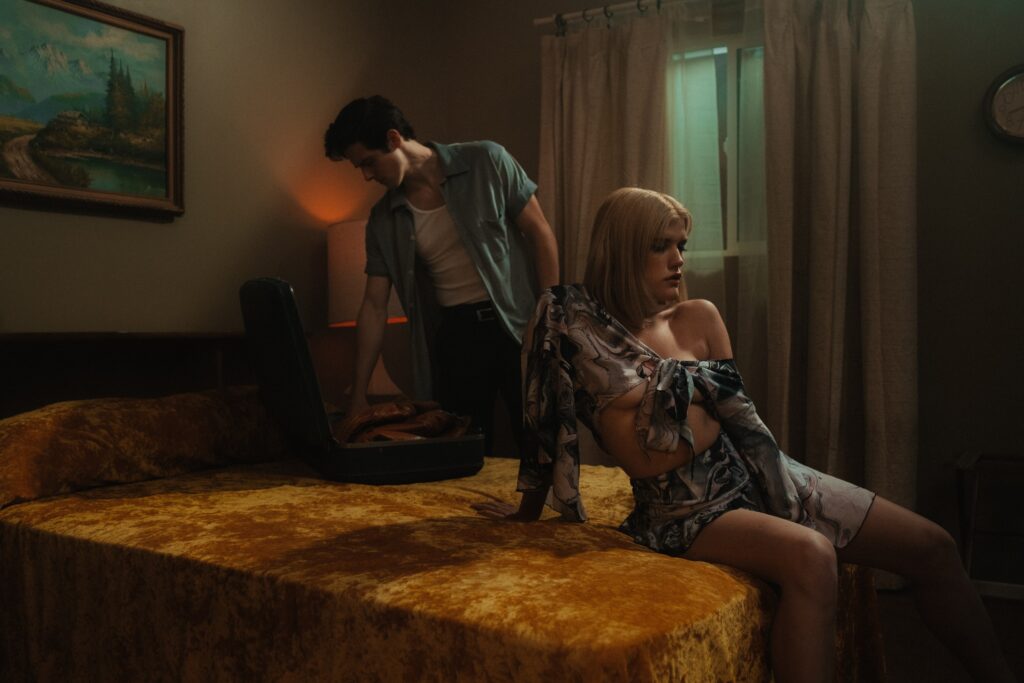 "Dear Ishaan, 
It was a great day. We talked about you. Your past. Your likes and dislikes. Your ex. And your kinks. We rarely talk about me but that's okay. I do not want to talk about me either. And thank you for holding my hands when I asked you three times." 
No, I did not cry. I just laid on my bed the whole night looking at the ceiling thinking about the futility of the whole concept of love. A prostitute is not supposed to love, I thought
I tried to blame Ishaan for making me feel that love exists between us. 
I tried to blame the society for making me think that love and sex NEEDS to exist together otherwise, no. 
I tried to blame myself for making a fool of myself that I expected love from a place of hookups. 
I faked my orgasm the other day. No, not because I wanted him to be happy with his whole facade of masculinity. But I could not handle him anymore. The irritation of not being loved back by someone made me mad. 
"Dear Ishaan, 
I am sorry. For expecting you to love me back. For expecting you to kiss my forehead after we are done in bed. For expecting you to hug me. I am sorry " 
I always wait for Saturdays to come by. We meet on weekends as my parents are out on Saturdays. As I opened the door for him, I hugged him. For a few seconds his hands remained there dangling like they were almost lifeless. I waited for them to hug me back and caress my spine. But they did not. 
And this time Ishaan moaned for the very first time, a little voice inside me hoped he would moan my name. But he did not. Sometimes I wonder if he knows my name. 
The love for you is turning into hate day by day. Like a slow poison. 
Well, his capability to know my name becomes visible on Friday nights as he texts me to ask if he can come by for the "service" the next day. I like the fact that you kind of beg for sex with me, makes me feel special. 
"Dear Ishaan, 
I sometimes wonder if your real name is Ishaan or even if this is a façade. Nevertheless, you will always be Ishaan for me"
"Can I play with your hair?" I said as I was too tired of waiting for him to tell me this. 
"Can I pull your cheeks?" 
"Can I caress your chest?"
"Can I hug you?"
"Can we stay a little longer?"
I wished to tell you all these but I could not. I may be a fool but not in such matters. 
The cooker whistled for the 3rd time as I came out of these thoughts. I started counting the cash from the start again. "500…1000…1500..2000" 
"Dear Ishaan, we did not meet this Saturday. I was the one to deny, to discontinue my journey with you. No apologies. No guilt whatsoever. But a little sad that you will be a little short of 2000rs this weekend. But that is fine. You are not the only service provider here. 
All I ever wanted was you to just stay a little longer."
Check out this series of erotic illustrations "Intimacy by Sakshi Jain"