Have you recently discovered that you're into kink? Are you confused about where to find other Indian kinksters? There's a social media network that you absolutely must sign up for.
Welcome to FetLife, which works like Facebook but for kinksters. With over ten million users, this is your gateway to the BDSM scene, anywhere in the world. You'll find both experienced kinksters and beginners, sharing their knowledge and experience of various kinks and fetishes.You can upload videos, photos, check what other users are posting on their end, comment on their posts, and once you gather a relative amount of friends in your locality, you can start organizing events. It's a way of bringing togetherness, without judging anyone.
However, do keep in mind that it isn't a dating app. If you slide into someone's DMs disrespectfully, you'll get blocked by them and all their connections there as well.
With that out of the way, let's set up your FetLife account.
Things To Remember While Creating Your FetLife Account
People on FetLife are very direct. They'll want to know stuff related to your kinks and fetishes. 
So, start by putting your age, location (the Indian state you live in, not your exact address), preferred name or pronouns, and other details regarding your tastes and preferences when it comes to kink. Adding in your level of experience can also provide valuable insights about you.
A great way to list this out would be to go on BDSM test and paste the results in your About.
My FetLife profile looked like this:
NTimere (22F, Switch)
Orientation: Bisexual
Active: I Live The Lifestyle When I Can
Looking for:
A Mentor/Teacher
Someone to Play With
Friendship
A Master
A Mistress
A Dominant
A submissive
A slave
Events
About: 
The smoother you slide into my DMs, the more likely I am to respond.
My pronouns are she/her.
Kinkster for five years.
== Results from bdsmtest.org ==
100% Switch
94% Rigger
92% Rope bunny
88% Primal (Prey)
87% Primal (Hunter)
86% Dominant
85% Brat
83% Submissive
75% Masochist
74% Brat tamer
74% Sadist
73% Non-monogamist
73% Voyeur
71% Master/Mistress
62% Experimentalist
55% Exhibitionist
47% Vanilla
31% Slave
26% Degradee
25% Owner
18% Degrader
11% Daddy/Mommy
Fetishes:
Into: affectionate domination, aftercare, aftercare cuddles, anime, attention, bare bottom spanking, bare handed spanking, bdsm, being overpowered, bisexuality, blindfolds, bondage, breasts, breath play, candle wax, chains, choking play, collar and lead/leash, collars, control, cuddles, cuddling, cuddling with benefits, d/s, discipline, domination, edging, erotic literature, erotic photography, female supremacy, fishnets, flirting, geeks, handcuffs, handjobs, high heels, humor, impact play, intelligence, leather, light bondage, lingerie, male submission, masochism, music, obedience training, oral sex, paddling, pain, polyamory, remote-control devices, restraints, riding crops, rope bondage, rope bondage/suspension, sadism, sapiosexuality, seduction, sensation play, sensory deprivation, sensual domination, sexual slavery, shibari, snuggling, spanking, switching, tattoos, teasing, toys, wax, whipping, whips
Now, we come to the second-most important part of FetLife: Groups.
If you'd like to start meeting people, you have to be active in the groups that exist in FetLife.
Not only does this help other people know that you're a genuine kinkster, it also enables a lot more conversation about the kinks and fetishes you're interested in.
One of the best ways to find people near your location is by using groups. 
Click on the Groups menu and then the search option. Then, just type in the name of your city and see what comes up. The Search option also offers other menus to look through.
For example, you can see:
Kinksters in the location you've searched  

Pictures

Videos

Discussions

Events

Fetishes
All of these help you to find potential matchups, especially the kinksters menu. 
At any time, you can also search via the search bar that you will see at the top of the screen.
Once you've found someone you'd like to reach out to, you can add them as a friend and start to see their updates as they make them.
FetLife is accessible via browsers on your smartphones anytime and anywhere.
There Is also an Android app that can be downloaded from the website. All the features are still accessible, and a smooth user experience is 100% guaranteed.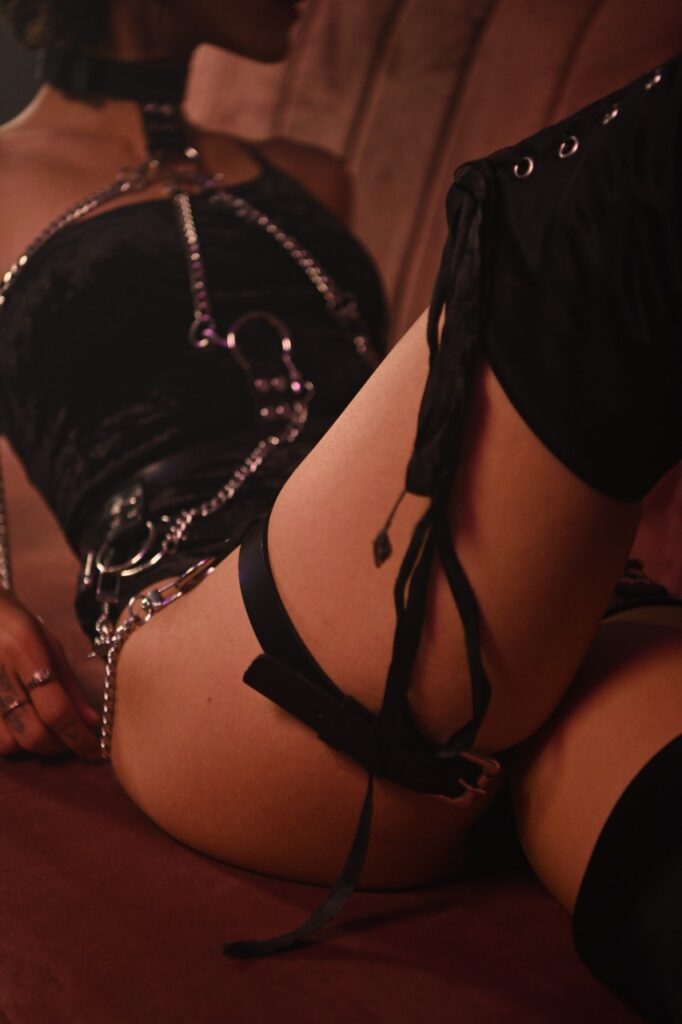 We wish you luck in your FetLife adventures!
Photographs & Fashion by Leather Subculture