I was flicking through my Netflix recommendations when a South Korean movie popped up on My Recommended.
Love and Leashes (Korean: 모럴센스; lit. Moral Sense) is a 2022 South Korean romantic comedy film, based on the webtoon "Moral Sense" by Gyeoul. The film depicts a romance between Ji-hoo, who has everything perfect but has secret BDSM desires, and Ji-woo, a competent public relations team member who finds out about his secret. It was released on Netflix on February 11, 2022, to coincide with Valentine's Day.
Now, I loved the story because the female lead is thrust into the role of being a Domme, with absolutely no experience in the same. The way she pushes past her ideas of what kink is, and the way she evolves as a Domme, is gorgeous to watch. As a Domme myself, I enjoyed seeing a woman take the lead and explore her relationship with power in a kink dynamic. 
The male lead also does a beautiful job in showing how BDSM is seen as something perverted by most Asian communities, whilst also showing the joyous side of being able to truly be yourself in a Dom-Sub relationship.
There's also the fact that the main pair do not set out with a sexual relationship in mind. They learn how to work with each other, how to guide each other through the process and also work on healing the other's trauma, as they set up scenes together.
As an Asian woman who is definitely in love with the lifestyle, it felt good to be seen on screen. It also made me laugh at how they start as amateurs, making hilarious mistakes and slowly learning to enjoy their fetishes.
The movie also addresses the flip side of leading a kinky lifestyle. Both our leads are worried about how others would see them if they knew about their BDSM lifestyle, and they work on their mental inhibitions and insecurities. It even manages to bring in the darker side of pursuing such a lifestyle, and why safety measures are so important, especially when we engage in play with strangers.
The treatment of kink as something wholesome and pure is so essential. In an era where Fifty Shades of Gray is considered the epitome of kink in a movie, Love and Leashes has a more wholesome and realistic approach to kink and BDSM. It's the kind of representation we need, and it is definitely a step in the right direction.
I appreciate the effort the movie takes to normalize and destigmatize BDSM. The lead pair work with each other in a relationship that is made of empathy, mutual respect and trust. And it feels so good to see them make mistakes and grow together. It is sensual, light-hearted and emotional in all the right places.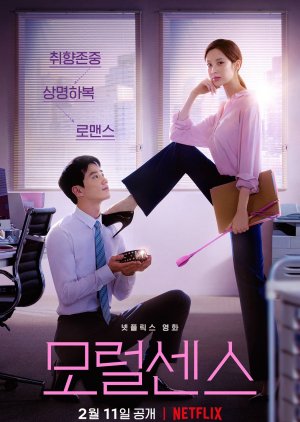 It's the kind of movie that would serve well for beginners who are curious about the lifestyle. For kinksters like me, it's a sweet movie to remember our good old days as beginners to the world of kinks and fetishes.