The world of polyamory can sometimes be daunting and confusing for new and old members. Having guidance at these times is crucial so that one can cultivate meaningful experiences. For that reason, we have curated this list of books on polyamory! Happy reading!

1. Love's Not Color Blind: Race and Representation in Polyamorous and Other Alternative Communities – Kevin A. Patterson
Love's Not Color Blind is a great book where Kevin Patterson explores racism in polyamory and other nontraditional relationship styles and what can be done to make these communities more inclusive.
The abstract is as follows-
"The issues that make monogamous dating daunting for people of color—shaming and exclusion by white partners, being fetishized, having realities of everyday racism ignored—occur in polyamorous relationships too, and trying "not to see race" only makes it worse. To make polyamorous communities inclusive, we must all acknowledge our part in perpetuating racism and listen to people of color. Love's Not Color Blind puts forward the framework—through research, anecdotal testimony, and analogy—for understanding, identifying, and confronting racism within polyamorous communities."
Polysecure: Attachment, Trauma and Consensual Non-Monogamy – Jessica Fern

This book is one of the famous recommendations for polyamory. A great introduction to the world, polyamorous psychotherapist Jessica Fern breaks new ground by extending attachment theory into the realm of consensual non-monogamy. Using her nested model of attachment and trauma, she expands our understanding of how emotional experiences can influence our relationships. Then, she sets out six specific strategies to help you move toward secure attachments in your multiple relationships. Polysecure is both a trailblazing theoretical treatise and a practical guide.
Many Love: A Memoir of Polyamory and Finding Love(s) – Sophie Lucido Johnson

A memoir with eye-catching graphics, Many Love recounts Sophie's experiences with love, sexuality, and 'the one'. In a lot of ways, Many Love is Sophie's love letter to everyone she has ever cared for. "After trying for years to emulate her boomer parents' forty-year and still-going-strong marriage, Sophie realized that maybe the love she was looking for was down a road less traveled."
(Something a lot of us can relate to, no?)
Polyamory Breakup Book: Causes, Prevention, and Survival – Kathy Labriola

Breakups are inevitable in some relationships, Kathy Labriola helps you to minimize the impact of one on the rest of your polycule and the community. This practical guide looks at the common causes of polyamorous breakups, identifies strategies to avoid ending relationships, and provides you with the toolkit to survive a breakup. From how to handle jealousy to the practicalities of managing money and time with multiple partners, this book includes tips and insights from the polyamory community.
The Ethical Slut – Dossie Easton & Janet W. Hardy

Another popular book spread throughout the community, The Ethical Slut is for anyone who has ever dreamed of love, sex, and companionship beyond the limits of traditional monogamy. Dossie Easton and Janet W. Hardy dispel myths and cover all the skills necessary to maintain a successful and responsible polyamorous lifestyle–from self-reflection and honest communication to practicing safe sex and raising a family. Individuals and their partners will learn how to discuss and honor boundaries, resolve conflicts, and define relationships on their terms.
The Jealousy Workbook – Kathy Labriola

The techniques and exercises in this book are the results of Kathy's long work in helping people manage their jealousy with insights from the polyamorous community's top educators. If you're looking for ways to manage your jealousy in your chosen poly relationship, this book may help you with it! (I will mention that there is criticism about it for being a bit 'couple centric')
Opening Up: A Guide To Creating and Sustaining Open Relationships – Tristan Taormino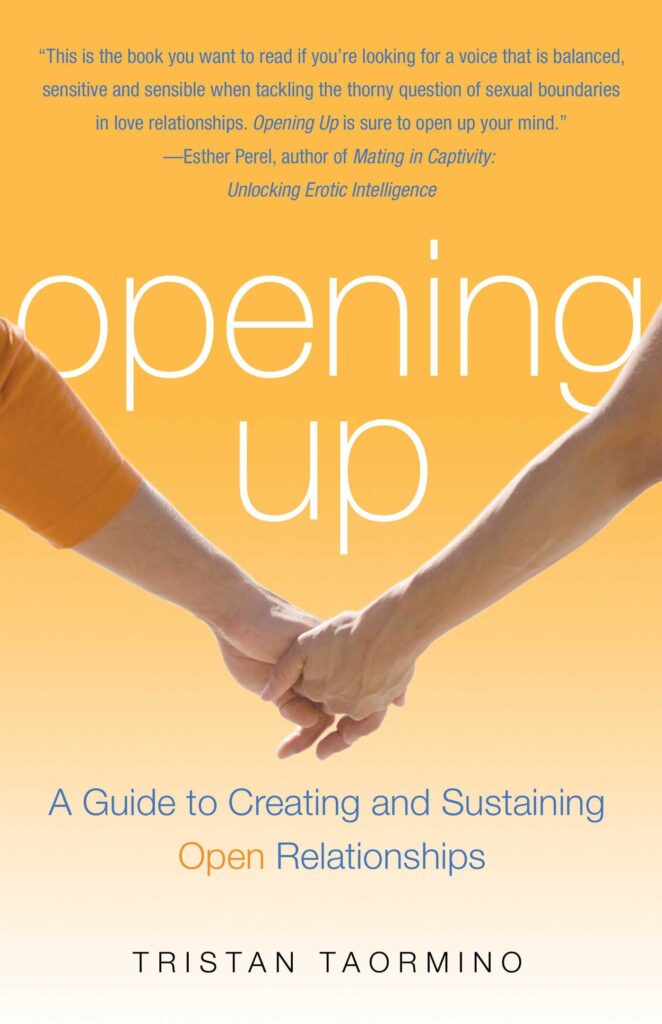 Last from our list is Opening Up. Tristan Taormino draws on in-depth interviews with over a hundred women and men and explores the real-life benefits and challenges of all styles of open relationships — from partnered non-monogamy to solo polyamory. "Taormino offers solutions for making an open relationship work, including tips on dealing with jealousy, negotiating boundaries, finding community, parenting, and time management."
This is not an exhaustive list! There are many wonderful books out there to explore. We hope you enjoy reading and gaining some insights into your journey on this exciting path!